Math Trainer has been developed to train mental arithmetic in a fun environment. It can be used by students and adults alike.
If you use this application on a regular basis this will improve your mathematical skills significantly.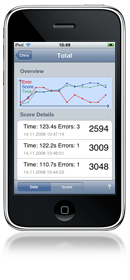 Math Trainer emphasizes regular training. Therefore, it shows how you are doing over time by keeping a history of scores. Your results are presented in a list, which can be sorted by date and by score.
Additionally, all results are plotted in a diagram to give you a quick color-coded overview of your performance.

If all exercises look the same, it gets boring. Especially kids need variations to keep their attention. We took this into account.
Therefore, Math Trainer offers you three different disciplines to choose from. Not only do they look different, they actually need different skills to solve the exercises:

Math Trainer supports multiple profiles. Each profile can have its own settings. You can use this feature to create profiles for different persons, e.g., your family members.
Or you could use profiles for different purposes, e.g., one profile for multiplying large numbers, another for addition and subtraction only.
Please contact us, if you need support or a helping hand: info@think-intelligent.com
Math Trainer is a diverse application to train mathematical skills. It's like having a personal trainer for your brain. And it's fun too! So enjoy Math Trainer - and buy it today from the App Store!